Different Visiting Places Around Our Resort
These following places are the most visited places around our Resort.
The Geo Eco Resorts is situated in the eastern part of chilika, the largest estuarine lake in Asia. This lake spreads over 1165 Sq. Km. during rainy season and 740 Sq. Km. during summer.The Chilika Lagoon is unique as it is a salt water lake during July,August, Septmber & October and estuarine water lake during November,December,January & February.Chilika is the host od 169 species of migratory & resident birds, rare Irrawady Dolphins, 328 species fishes apart from other flora and fauna.
Near By Attraction

About Satapada :
Satapada is a lake resort located on the southeastern piece of the famous Chilka Lake. The term Satapada means gather of seven villages. This place is famous as the point where the Chilka Lake pours into the Bay of Bengal.
Chilika covers an area of 1,165 square kilometers over the districts of Puri, Khurda and Ganjam. Chilika is home to more than a hundred variety of fish and dolphins. With the onset of winter, birds begin to land in Chilika, and within a month, thousands come together in different parts of the lake. Today, Chilika has the second largest congregation of migration birds in the world after lake Victoria in Africa.
Satapada attracts tourists for viewing of Dolphins and the picturesque Sea mouth. Tourists for viewing of Dolphins and the pretty Sea mouth. There are options with them who want to visit for 1 hours, for Dolphin sight seeing, or 2 hours, cruising for the sea mouth and Dolphins or visit to the beautiful Rajahans a island both for the sea and lake.Some Tourists are like to visit the Bird sanctuary which is about 4 hours duration by boat. The children can feel better with exposure to nature. The visitor centre developed by Chilika Development Authority is a store house of knowledge. Entry fee is Rs. 5/-. Once you visit the centre you can get to know about the lagoons, its ecosystem, natural wealth, migratory birds, Dolphins etc.

Chilika - New Sea Mouth :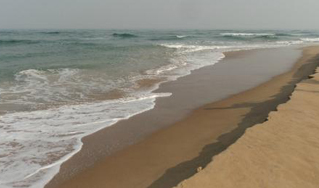 The New Sea moth Is popularly Known as "MUHANA" , the confluence point of Chilika & Bay of bengal take a magnificent view of sunrise and sunset.

Chilika Lake, Satapada :
Chilka Lake - Asia's largest brackish water lagoon with water spread ranging from 1165 sq km m the rainy season to 906 sq km in the dry season is nestled in the heart of the coastal Orissa. It extends from Bhusandpur in Puri district in the North to Rambha-Malud in Ganjan district in the South, separated from the Bay of Bengal by a 60 km long narrow strip of marshy islands and sand-flats.

The large Nalabana Island (Forest of Reeds) :
The large Nalabana Island (Forest of Reeds) covering about 16 sq km in the lagoon area was declared a bird sanctuary in 1987. The core area of about 9 sq km attracts around 400,000 waterfowls of different species. Often underwater, the island gradually emerges with the outset of summer. It is literally a paradise for bird-watchers.

Dolphin Point Satapada :
Satapada, alternatively spelt as Satapara, is one of the most popular tourist place of Orissa. Here Dolphins and the scenic Sea Mouth attract large number of tourists every year. Visitors can hire boats to go to the dolphin viewpoint to get a sight of the dolphins.

Kalijai Temple :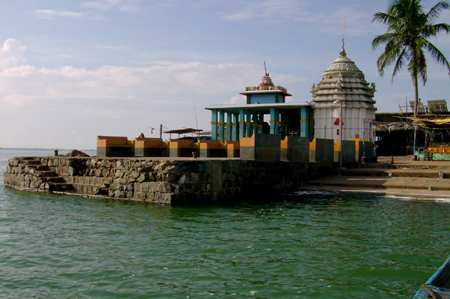 Kalijai temple is situated on an island or you can say a Hill. It is about 18 K.M. away from Balugan in south east direction, the residence of the Goddess Kalijai. Most of the home tourists know that visit to KaliJai is that's all to visit Chilika.

Alarnath Temple :
Lord Alarnath temple in Brahmagiri, around 14 km from Our Resort, is not a big tourist destination but a famous religious place for all Krishna devotees. It is explained that in Satya Yuga, Lord Brahma came and worshipped Lord Vishnu here on top of a hill. One day Lord Vishnu appeared and said, "I am very pleased with your worship. Make a four-armed Deity of Me holding shankha, chakra, gada, and padma (conch shell, disk, club, and lotus). The Deity should be made from a piece of black stone. Also install a Deity of Garuda". Lord Vishnu also said, "This place will be called Brahmagiri (Brahma's hill) because you have worshipped me here". According to mythology, the rulers of Alwar in Rajasthan had established the temple here. The temple was later known as Alwarnath or Alarnath.